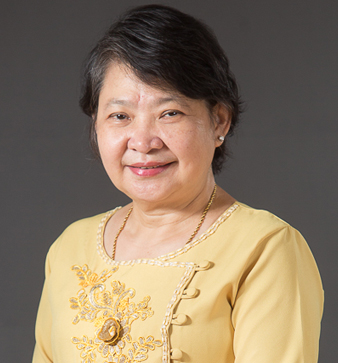 CHAIRPERSON'S STATEMENT
Myanmar Oriental Bank was established on 18 November 1993. This year marks the silver jubilee of Myanmar's most trusted and efficient bank. In the first 10 years of our history, we implemented our company policies and procedures, ethical codes for Board Directors, HR policies and fundamental organizational requirements under the guidance of professional bankers and experienced businessmen.
We stand as the most ethical bank in the industry, thanks to the trust and support from the Central Bank of Myanmar. We take pride in being the first bank to receive permits from the Central Bank of Myanmar to launch a leasing business, credit cards, trust operations, foreign exchange, and international Visa card acquiring.
Our 10th anniversary in 2003 coincided with MOB overcoming the industry-wide banking crisis. This reflects the resilience of our banking operations and the high ethical standards of our internal management. During the most recent 10 years, we have engaged and collaborated with international organizations to improve the quality of our services to our loyal customers:
We were the first local bank to operate Western Union international remittance.
Our MOB employees received training from ESun bank (Taiwan) to improve our banking services.
We participated in the International Finance Corporation's Global Finance Program.
We received a USD 7 million convertible loan from IFC, along with advisory services in corporate governance, IT, risk management, credit, trade finance, and treasury.
We were one of three private banks chosen by GIZ to participate in the pilot implementation of IFRS 9.
We issued co-branded cards with Union Pay International.
We launched a mobile wallet application and digital payroll services with Ongo.
Recently, we upgraded our core banking system to Temenos's T24 across all branches, to drive automation and efficiency.
The drive to modernize MOB and engage the international community will put the Bank on the path to achieve our vision: to become a modern financial powerhouse propelling prosperous growth in Myanmar.