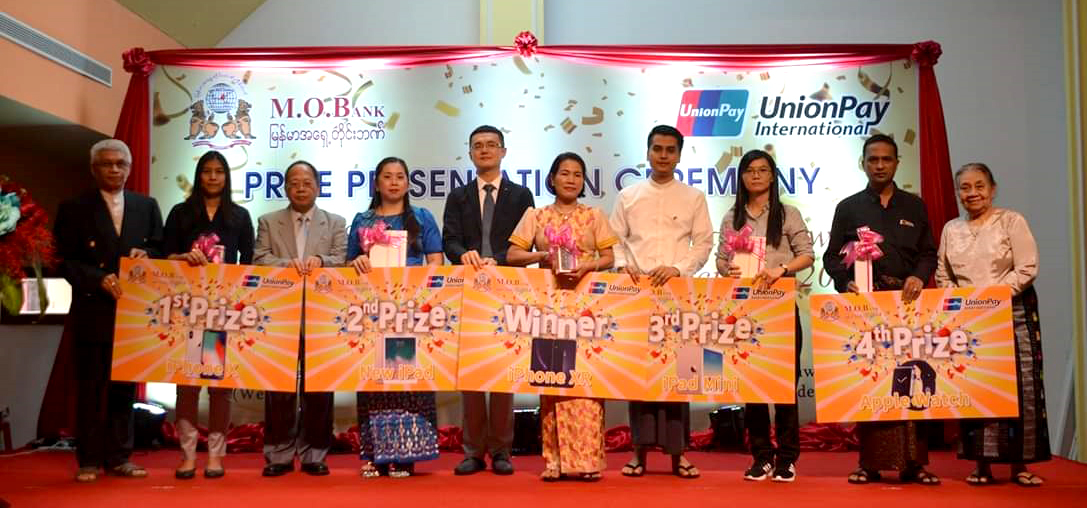 December 21, 2018

MOB Bank

0
The 4th Final Award winners ceremony  by MOB & UnionPay Grand Lucky Draw Promotion Program of Myanmar Oriental Bank Limited was held on Wednesday 2018 December 19 From 2:00 pm to 4:00 pm at Rose Garden Hotel ,Upper Pansodan Township ,Yangon .
According this ceremony attended by Myanmar Oriental Bank Limited Members ,UnionPay Internation's members , Invited award winners guests families  and Media Members .
By the time Award ceremony was held for MPU/ UPI Co-brand Credit Card Holders amoung thems such as ;
4th Prize  -Apple Watch for Ko Myo Shwe from Yangon
3rd Prize  – iPad Mini for Ma Ni Ni Lay from Bago
2nd Prize – New iPad for Ma Aye Aye Myaing from Yangon
1st Prize –  iPhone X for Ma Hnin Ei Ei Aung from Yangon
The Grand Prize – iPhone XR was awarded to
Ma Khine Khine Swe from Yangon and successfully celebrated the event.